Getting dimensions of image.
Please wait...
Purchase a fine art print from your collection...
Cost
Regular price
$25
+ $25 white glove packing fee + shipping
Regular price
+ $25 white glove packing fee + shipping
Sale price
$25
Unit price
per
Sale
Sold out
By placing an order, you agree to share your shipping and payment
information to Tender's Shopify account, the most trusted platform
in online orders and to the Print Service Privacy Policy & Terms of
Service.

Your personal information will never be used or referenced for
anything, except delivering your prints.
About Your Print & Cone Editions Press
Prints offered through Tender are pigment-based, which is the same thing as inkjet or 'giclee' printing. With the proprietary approach developed by Cone Editions (see details below), the pigment printing process spans the best reproduction characteristics available to serve both photographic/tonal imagery, and graphic/sharp imagery. While many other print processes exist, there is nothing that can take a digital file to this level of accuracy and feel. By using carbon black inks, exceptional Hahnemühle papers, and white glove art-handling practices, your prints are delivered in certified archival status.

Background
Cone Editions works with world-renowned artists to print artworks in a variety of traditional and digital processes, using over four decades of experience to reach extraordinary levels of quality not found in even most high-end print shops. This experience, and their background as artists themselves, create an intuitive ability to bring out color and details at their best.
The top printers in the world utilize Cone Editions innovations for image pre-processing, custom printer software, and proprietary ink formulations. Therefore, the processes used for your prints are actually beyond industry-leading, in that their latest revolutions in color accuracy, print density, and other image-perfecting techniques are always kept in-house before rolling out to industry partners and their clients.
These innovations are borne from a respect and deep understanding of tradition. The studio's early emphasis was on direct applications including hand drawn screenprints, aquatint photogravures, and monoprints – and now maintains practices in the world's leading techniques for photopolymer plate gravure, print-out platinum palladium printing, and many other tradition-based print methods. In the late 1990s Cone turned their attention to developing inks, file handling processes, and in-printer software for EPSON to lead the revolution in inkjet print for what has become an entire generation of digital printmakers.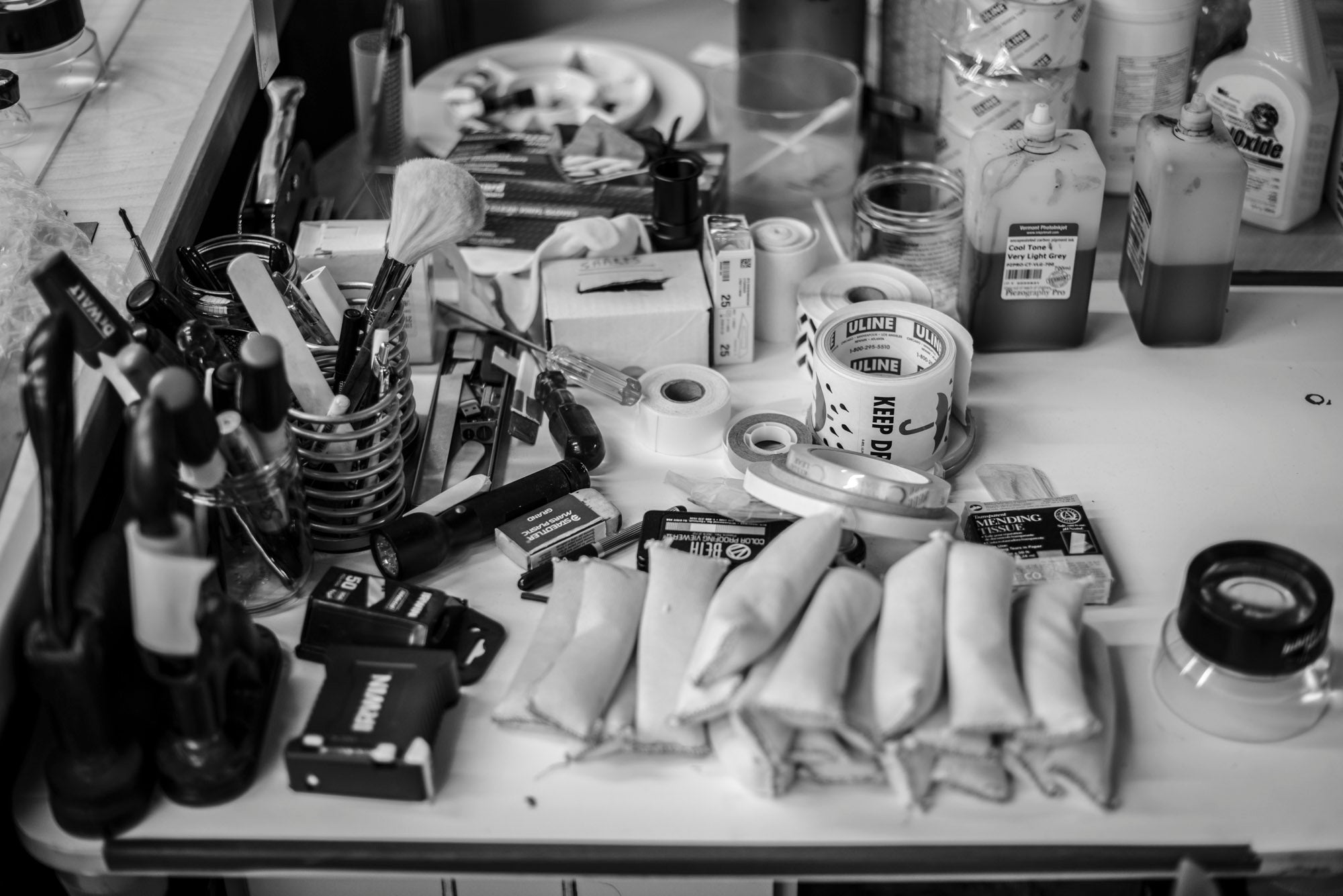 Paper
We currently offer two paper selections: a lightly coated Baryta paper that mimics the look of traditional 'pearl' photographic papers, and an uncoated Rag paper that's on par with some of the finest printmaking papers available. Both papers are comparable to a 115# (lb) cover paper. As we expand our services, additional paper types will be made available. At this time, we can only take special requests for orders at high quantities.
Whether you choose the Hahnemühle fine art matte/uncoated Photo Rag, or the coated Photo Baryta, Cone Editions carbon prints will best serve your pieces with greater dMax, superior shadow and highlight detail, higher acuity, and a significantly smoother tonal response.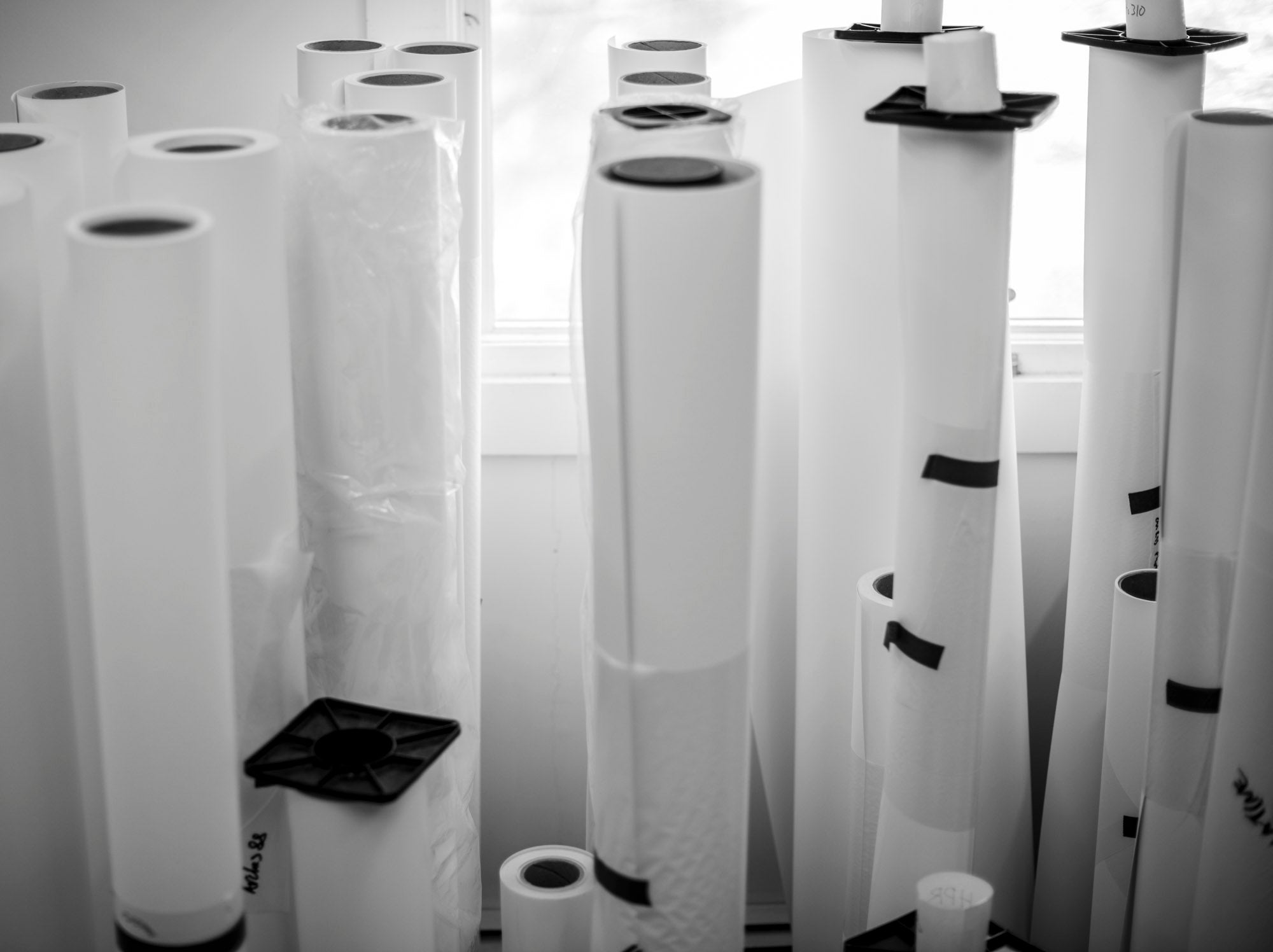 Proprietary Pigments
Cone Editions Press specially formulates their own inks to produce archival pigments that create the richest colors and tones possible today. From special gloss-optimized prints, to enhanced matte black ink printing, their Ultra-HD-MK carbon ink is the darkest carbon ink in the world for digital pigment printing, enhancing the look of your screen-native images into deep, rich physical prints.
Additionally, the 11-ink color range used allows for the highest gamut of saturated outputs in pigment printing. While certain 'hot' on-screen colors will never reproduce well through these processes (think hot pinks and various other 'neon' colors), this multi-ink set will get the closest possible – yielding vibrant blues, rich oranges and red, luscious greens, and many other difficult to print colors.

Piezography
For black and white printing, Cone Editions has developed Piezography® – a widely used technique that employs 11 different monochromatic inks, eight of which are gradated to produce tens of thousands more gray levels than the highest end off-the-shelf printers available. Cone formulates and print with the world's darkest matte and photo black inks, and adds an 11th ink that further eliminates gloss differential: a Gloss Chroma Optimizer. The surface of a Piezography print is absolutely unique in the print world.

Custom Calibration
At the studio, every color printer and paper is carefully profiled with "color dictionaries" that ensure the closest match between the monitor and the paper. This achieves maximum color fidelity and stable results for artists, controlled down to the ambient temperatures and humidity levels while printing. Good color is not just about maximum pop, it's about the subtleties between neutrals, tonal variations, and saturation levels – and Cone's custom programmatic color management (on-computer, and on-printer) is an ever-evolving area of refinement by expert technicians that drive the leading edge on digital color reproduction.

Delivery & WHITE GLOVE PACKAGING
Cone Editions is run, from file to packing, by artists. They are dedicated to ensuring exceptional quality prints for every delivery, and personally review every step of the process from file handling, to printing, to packing.
Every print is immediately moved into an archival sleeve after printing, and either packed in extra-strong tube mailers, or flat-packed with multi-layered corner protection. The materials and human-attention to your print necessitate the additional $25 handling fee – a modest cost for access to this level of service.
Prints are shipped from northeast United States, and all shipping costs are calculated automatically by UPS and USPS to provide the lowest rates possible, based on your exact location. International shipping works the same way, but is not inclusive of any customs or vat payments required.
While each print is guaranteed from defects upon delivery, please note that we do not offer refunds on any order.